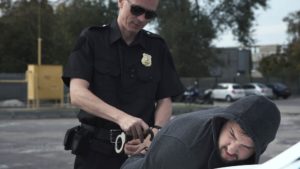 If a person involved in a relationship believes that the other party poses a threat of harm, that person can seek a domestic violence order of protection, or restraining order, in New Jersey. It is a civil order. However, a violation of the restraining order is a criminal offense. As a result, anyone accused of a violation could face serious consequences, including fines and incarceration.
Attorney Jason A. Volet understands how, in many cases, a person can be accused of violating the conditions of a restraining order that the person didn't even know existed. Sometimes, the intense emotions involved in a domestic issue can lead one party in a relationship to wrongfully accuse the other party of violating a restraining order. That is why we conduct thorough investigations of these cases and work tirelessly to discover and present all of the facts and circumstances.
If you have been charged with violating a restraining order in New Jersey, contact The Law Office of Jason A. Volet without delay and allow us to get started on your defense. Our initial consultations are always free and confidential.
What Is a Restraining Order?
New Jersey law provides for two types of restraining orders in domestic violence situations under N.J.S.A. 2C: 25-28:
Temporary ex parte restraining order (TRO) – A court will grant this order if it finds that it is necessary to protect a person's life, health or well-being. "Ex parte" means that the court will make its decision without hearing from party who is being subjected to the restraining order. Typically, the TRO will last 10 days, or until a hearing is held on whether to enter a final restraining order.
Final restraining order (FRO) – Unlike a TRO, the other party has a right to appear in court and challenge the request for a FRO. If the court grants the order, then it will be permanently in effect unless, later on, grants a motion to modify or terminate the order.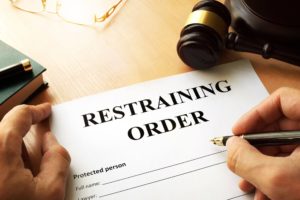 A restraining order can prohibit a person from several different types of conduct. In most cases, the order will prohibit a person from:
Committing any acts of domestic violence or threatening to harm, harass or stalk anyone who is named in the order
Going to the other person's home, work, school or other places where that person is likely to be found
Having any form of contact with the other person, including in-person contact or contact through other means such as calling, texting or interacting with the person through social media sites such as Facebook
Buying, owning or possessing a firearm.
The order may also impose certain duties on a person such as:
Paying for the other person's rent or mortgage
Undergoing a psychiatric evaluation or drug and alcohol abuse evaluation
Taking domestic violence counseling classes.
If a person is accused of violating either a TRO or FRO, a judge in the Family Part of the Chancery Division of Superior Court will review the allegation and determine whether to find the person guilty of criminal contempt.
What Happens If You Violate a Restraining Order?
Under N.J.S.A. 2C:25-31, a law enforcement officer must arrest a person and take that person into custody if the officer has probable cause that the person violated a domestic violence restraining order. If a court ultimately finds the person to be guilty of contempt, the person could face penalties set out in N.J.S.A. 2C:25-29, which include:
Crime of the fourth degree – If the person purposely or knowingly violates any provision of the domestic violence restraining order – regardless of whether the order was entered in New Jersey or another state – when the person's conduct constituted a crime or disorderly persons offense. For instance, if the person assaulted the other party, it would violate both the restraining order and New Jersey criminal law. A crime of the fourth degree carries penalties that include up to 18 months in prison and a fine of up to $10,000. Keep in mind: In addition to these contempt penalties, the person could also face punishment for the criminal offense that he or she committed while violating the restraining order.
Disorderly persons offense – If the person otherwise violated the terms of the restraining order. For instance, the person may have called the other person despite a provision in the order which prohibited having any contact. A disorderly persons offense carries penalties that can include up to six months in jail and a fine of up to $1,000.
If a person is convicted of a second domestic violence contempt offense, the person could face a mandatory sentence of 30 days in jail.
Do You Need a Lawyer If Charged with Violating a Protective Order?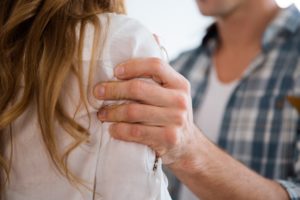 Given the consequences that you could face if convicted of a restraining order violation, you should seek help from an experienced New Jersey domestic violence defense lawyer as soon as possible. Attorney Jason A. Volet is certified by the Supreme Court of New Jersey as a Criminal Trial Attorney. He has handled more than 2,000 cases as an assistant prosecutor and defense lawyer, including numerous cases involving allegations of domestic violence restraining order violations. He will know how to investigate your case and develop a sound defense strategy on your behalf.
For instance, the contempt statute requires a "knowing" violation of a restraining order. The evidence in a case may show that a person was never served with a copy of the order or otherwise would not have known of the condition(s) which he or she allegedly violated. An effectively presented defense could lead to a dismissal of the charge in your case.
Get Help from a New Jersey Domestic Violence Defense Attorney
The stakes are high when you are accused of violating a domestic violence restraining order. A criminal contempt conviction could threaten your freedom and your future. This is why you should not try to handle your case on your own. Instead, get help right away from experienced New Jersey domestic violence defense attorney Jason A. Volet. Call or reach us online now to schedule a free consultation through our office in Freehold or Neptune.