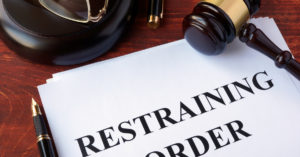 An alleged victim of domestic violence may obtain a restraining order against another person who has threatened harm or caused some type of harm. Restraining orders, also known as protective orders, typically prohibit contact between the defendant and alleged victim.
The alleged victim of an assault or the police officer who answers a domestic violence call might request a temporary restraining order (TRO), which they would seek to have declared a final restraining order (FRO) in a formal hearing. It is rare for a law enforcement officer or an individual making a credible claim of domestic violence to be turned down when requesting a TRO.
If you are the subject of a restraining order, you should keep in mind that it is a judge's legal order. If you are the target of a restraining order, a judge will not be pleased if you disregard the order. It's a criminal offense to violate a protective order, and New Jersey courts take violations seriously. New Jersey law allows the court to fine you and put you in jail for violating a protective order.
If you have been accused of violating a restraining order in New Jersey, you need an experienced New Jersey criminal defense attorney at your side. The Law Office of Jason A. Volet in Freehold, New Jersey, can help you fight the charges against you and seek the best outcome for you. Contact us online or at 732-491-8477 for assistance today.
What Happens If I Violate A Restraining Order In New Jersey?
Two of the most likely provisions of a domestic violence restraining order are that the defendant:
Not contact or communicate with the accuser in person or via telephone, text, email, other online communication or form of writing
Not return to the scene of the alleged violence or visit other locations, such as the alleged victim's place of business or school.
If the defendant violates any provision of the judge's order, the alleged victim, or plaintiff, can report the violation to police. Police can then arrest the defendant and charge him or her with contempt of court for violating the restraining order and any other charge available, such as trespassing, assault, or stalking.
These are criminal charges, which the local county district attorney's office will prosecute in the county where the violation allegedly occurred. The prosecutor may consult the plaintiff, but the prosecutor will determine how to proceed on behalf of the state of New Jersey, which confers the obligation to seek a guilty verdict if a crime has been committed.
In cases that involve an act of violence, either before the restraining order was issued or in violation of a restraining order, the prosecutor will face additional pressure to see to it that the defendant is punished.
What Are the Penalties for Violating A Restraining Order?
Under the applicable law, N.J.S.A. 2C: 29-9(b), the charge of criminal contempt is a disorderly persons offense if there is no other crime beyond knowingly violating the protective order. A disorderly persons offense is punishable by up to six months in jail and a fine of up to $1,000.
However, the defendant may be charged with a fourth-degree felony if he or she knowingly violates the restraining order by committing one or more of 14 domestic violence offenses listed in New Jersey law:
Homicide
Assault
Terroristic threats
Stalking
Kidnapping
Criminal restraint
False imprisonment
Sexual assault
Criminal sexual contact
Lewdness
Criminal mischief
Burglary
Criminal trespass
Harassment.
The defendant would be punished according to the individual crime if found guilty. A fourth-degree offense is punishable by up to 18 months in prison and a fine of up to $10,000 in New Jersey.
Multiple prior violations of a restraining order will weigh against claims of innocence. If a new guilty verdict cannot be avoided, the result is more severe punishment if there are multiple prior convictions.
Defense Against Restraining Order Violation Charges
Depending on the circumstances of your case, there are several ways The Law Office of Jason A. Volet can help you if you have been charged with violating a restraining order in New Jersey.
First, the court must show that the defendant had been properly notified of a temporary or final restraining order before determining that a violation of the order has occurred.
If you have not been served with a copy of the restraining order, the charges against you should be dismissed. This legal defense would likely apply to incidents that occurred immediately after a restraining order was handed down and before there was time to serve the order or if you could not be located and served.
Otherwise, the prosecution must present evidence of a violation (and/or attached domestic violence crime) that proves beyond a reasonable doubt that you are guilty of the charges filed. This is a high burden for the prosecution. Most domestic cases pit one person's word against another's.
In cases where the facts of the charges cannot be disputed, our office will work to achieve a resolution to the case that is as favorable to you as possible. In some restraining order violations, the consequences of the violation are minor, and we can seek what is known as a "de minimis infraction" ruling. Essentially, this provision of New Jersey law is available to separate trivial matters from actual criminal conduct and is used to remove an unnecessary prosecution from the court's docket.
In other cases, we would hope to express your true remorse for the violation and understanding of the importance of adhering to all provisions of the restraining order in the future. Because of attorney Jason Volet's experience handling over 2,000 cases as a prosecutor and criminal defense attorney in Monmouth County, he has the established professional relationships necessary to negotiate on behalf of defendants who do not deserve the harshest punishment available.
Contact an Experienced NJ Restraining Order Defense Attorney
If you have been accused of violating a New Jersey restraining order or protective order, it is important to have an experienced New Jersey criminal defense attorney at your side who will fight the accusations against you. Contact the Law Office of Jason A. Volet today online or at 732-491-8477 in Freehold, NJ, to learn more about how we will fight for you.