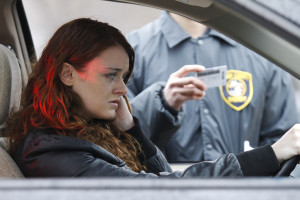 In New Jersey, before the police can stop a driver or administer a sobriety test, they must have a reasonable basis for making a stop in the first place. A reasonable basis may be if they see the driver commit a moving violation (such as running a red light), or if there is a reason to suspect that the driver may be intoxicated (such as erratic driving).
The 4th Amendment Basis
The basis for illegal search and seizure is set forth in the 4th amendment to our Constitution, which, when originally drafted, was adopted to prevent unlawful search and seizure in homes. Our founding fathers had a strong belief in protecting citizens from unreasonable search and seizures, which were commonly used by the British to harass citizens. Now, searches and seizures of homes generally require that a search warrant be issued, and that probable cause exist.
The Police are Not Permitted to Stop a Car Absent a Reasonable Suspicion that a Motorist is in Violation of the Law.
While we do not have the same rights against illegal search and seizure in our vehicles as we do in our homes, we nonetheless do have rights against illegal search and seizure. Police cannot randomly stop drivers to see if they have a valid license, or because they look or dress a certain way, or even because they were seen leaving nightclub.
The reasonableness for the stop must be objective. A police offer can't say that he or she had a "hunch" that a person was intoxicated, or even that they have a good record of arresting intoxicated drivers.
How Our Firm Helps
We all have the right to be free from unwarranted searches and seizures, which is precisely the reason the 4th amendment was adopted. When a traffic stop is not proper, we will seek to have all evidence excluded, including any sobriety tests or evidence of drug possession.
If we are successful in convincing the court that the traffic stop was not proper, usually all of the evidence gained from the illegal stop will be deemed inadmissible. In most cases, when there is no evidence that is admissible showing proof of guilt beyond a reasonable doubt, the prosecution will dismiss all charges.
This informational blog post was brought to you by Jason A. Volet, an experienced New Jersey DWI and DUI Defense Attorney.