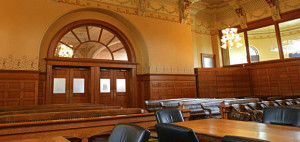 Monmouth County New Jerseys' Criminal Division is comprised of six trial judges and a drug court judge. Every trial court is assigned criminal cases on a rotating basis. Every judge has a team consisting of a team leader, probation officers who write investigative reports, court clerk, law secretary, and data input person.
Collectively they resolve the many criminal matters, including bail, grand jury handups, indigency investigations, calendar planning and management, PTI and presentence reports. The Drug Court judge heads a team of court staff, legal professionals, probation officers, substance abuse evaluators and treatment pros. The drug court employs a sentence alternative which will allow the participant to enter treatment, rather than be incarcerated. The goal of the court is to break the cycle of drugs, alcohol and criminal behavior.
Permanent data of events are documented and retained, and the case files are located in the Criminal Records Section. They also have resources for distributing judgments and reports to the appropriate individual or department.
The Presiding Criminal Judge has total responsibility for the division and she is assisted by the Criminal Division Manager. The division also has a presiding municipal magistrate assigned who reviews bail and conducts daily initial appearances in a courtroom at the Monmouth Correctional Institution. He is assisted by a team who interviews all defendants imprisoned in lieu of bail.
This informational blog post was brought to you by Jason A. Volet, an experienced New Jersey Criminal Defense Lawyer.