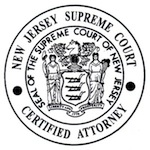 Choosing a lawyer to represent you when you have been charged with a crime will be one of the most important decisions you will make. You may ask yourself, how do I decide? You need to make sure that the lawyer you choose has the experience you need. Jason A. Volet is 1 of 248 lawyers Certified by the Supreme Court of New Jersey as a Criminal Trial Attorney. In order to receive this designation, Jason A. Volet was required to demonstrate sufficient levels of experience, education, knowledge and skill in the field of criminal law; have passed a rigorous examination; and have been recognized by his peers as having sufficient skills and reputation in criminal law. In order to be allowed to even sit for the exam, Jason A. Volet had to have a specific number of minimum days in trial before a jury.
Let an experienced criminal lawyer, recognized for that experience by the New Jersey Supreme Court, represent you in your time of need. The Law Office of Jason A. Volet is ready to help you.
This informational blog post was brought to you by Jason A. Volet, an experienced New Jersey Criminal Defense Lawyer.