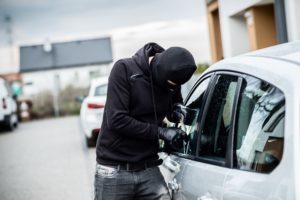 If you are accused of taking another person's property without permission, you can be charged with a theft offense in New Jersey. The potential penalties that you face if you are convicted will depend on many different factors, including:
Specific type of theft crime
Value of the property
Your prior record
Whether you are accused of committing another offense in conjunction with the theft such as a violent crime.
In this article, we will examine those factors and explain the consequences that a theft conviction carries in New Jersey. If the police recently arrested you or a loved one on any type of theft charge, you should contact The Law Office of Jason A. Volet as soon as possible to discuss the specific facts of your case. We can provide a free consultation through our office in Freehold or Neptune.
Jason is a former Monmouth County Assistant Prosecutor who is certified by the Supreme Court of New Jersey as a criminal trial attorney. He has handled more than 2,000 cases over the course of his career, including numerous theft cases. He can put that experience to work for you and formulate a defense strategy that is aimed at protecting your rights and your future.
What Is the Difference Between Petty Theft and Grand Theft in New Jersey?
First, let's clarify the difference between petty theft and grand theft crimes in New Jersey. You may hear these terms a lot. They are not specific crimes but, instead, terms that people use to categorize different types of theft offenses.
When people describe an offense as "petty theft," they generally refer to a disorderly persons offense, or misdemeanor, which involves the unlawful taking of property with a value of less than $200. The shoplifting of a clothing item from a retail store like Wal-Mart, for instance, would be an example of "petty theft."
In contrast, people use the term "grand theft" to describe indictable offenses, or felonies, in which the value of the item is much greater. A grand theft crime can range from a carjacking, which is a first-degree crime, to the taking of an item which is only slightly more than $200, which is a fourth-degree crime.
Of course, a theft charge of any kind can carry serious consequences, including:
Payment of fines, court costs and restitution
Imprisonment
Community service
Mandatory counseling
Loss of driving privileges.
If you are facing theft charges, you should always discuss your case and your defense strategy with an experienced Monmouth County theft defense lawyer. It is important to take every step you can to avoid a criminal conviction. The Law Office of Jason A. Volet is ready to help you.
Several Factors Determine Potential Theft Penalties in New Jersey
If you are charged with theft in New Jersey, the possible penalties you face will depend on:
Type of theft crime – When people refer to "theft" in New Jersey, they generally mean the crime of theft by unlawful taking or disposition, which is defined in N.J.S.A. 2C:20-3. However, New Jersey law allows for the prosecution of many other types of theft crimes, including theft by taking and carrying away, theft by deception, theft by extortion or theft of property which has been lost, mislaid or delivered by mistake. Each type of theft offense carries different levels of punishment.
Value of the property – The value of the item stolen in a theft crime bears significantly on the potential punishment. For instance, under New Jersey law, the theft of property with a value of $75,000 or more is a second-degree crime which could carry a prison sentence of up to 10 years, while the theft of property which is less than $200 is a disorderly persons offense which can lead to no more than six months of imprisonment.
Prior record – Whether you have prior theft charges can also be a factor in the potential punishment. For example, if you are convicted of a third or subsequent shoplifting offense in New Jersey, you will be required to serve at least 90 of imprisonment – regardless of the value of the item.
Committed with other offenses – If you use some form of violence while carrying out a theft such as harming another or putting a person in fear of immediate harm, then you could be charged with robbery in New Jersey, which is a second-degree crime and could lead to a sentence of up to 10 years.
To learn more about the specific type of theft crime that you or a loved one may currently face, get in touch with our dedicated legal team at The Law Office of Jason A. Volet today.
What is the Statute of Limitations for Theft Charges in New Jersey?
All states have a statute of limitations which applies to different crimes. This is the amount of time which the prosecution has to press charges. If the statute of limitations expires, a person can no longer be charged with a crime. The statute of limitations protects people from being charged with a crime when, due to the passage of time, those charges would be harder to defend.
The statute of limitations in New Jersey for indictable theft offenses is five years from the date of the alleged crime. Petty theft is different, however. Due to the fact that petty theft is a disorderly persons offense, the statute of limitations is only one year.
Get Help from an Experienced NJ Theft Crimes Defense Attorney
If you are arrested for any type of theft offense in Freehold, Neptune or elsewhere in New Jersey, it will be crucial for you to have a skilled criminal defense lawyer by your side as soon as possible. Attorney Jason A. Volet can bring his background as both a prosecutor and defense attorney to your case along with his passion for protecting the rights of the accused. Don't wait to get the legal help you need. Contact us today for a free and confidential consultation.