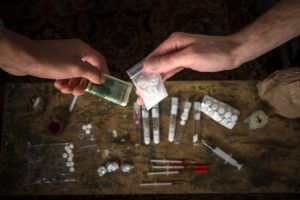 You can get in legal trouble in many ways because of drugs – even without having drugs in your possession. Possession of drug paraphernalia is one of those situations. In particular, you may face serious consequences in New Jersey if you are found to be in possession of a needle or syringe that is being used for illegal drug-related purposes.
If you or a loved one has been charged with possession of a hypodermic needle or syringe in New Jersey, you should get help as soon as possible from an experienced drug crimes defense lawyer who will protect your rights and help you to fight the charge. As we explain in more detail below, several defenses may be available to you. Your lawyer should know how to explore all options and work tirelessly to pursue the best outcome for you.
Are Hypodermic Needles Illegal to Possess In New Jersey?
Under N.J.S.A. 2C: 36-6, it is generally illegal to possess a hypodermic needle or syringe in New Jersey for the use of a controlled dangerous substance such as heroin. You also cannot sell or give such a needle or syringe to another person. If you are charged with this type of drug paraphernalia possession, you could be found guilty of a disorderly persons offense.
What Is a Disorderly Person's Offense
A disorderly persons offense in New Jersey is the equivalent of a misdemeanor. Technically, such an offense is deemed to be less serious of a criminal act than an indictable crime, or felony. Still, a disorderly persons offense charge could have a major impact on your life for many different reasons. If convicted, you could:
Face up to six months in jail and a fine of up to $1,000.
Lose your driver's license for up to two years.
Lose a professional license or certification.
Face other consequences such as the loss of your job and standing in your community.
Can I Possess a Hypodermic Needle in New Jersey?
It is important to note that you can possess and use a hypodermic needle or syringe in New Jersey if:
You obtain it with a valid prescription issued by a licensed physician, dentist or veterinarian, and you use the needle or syringe for its authorized purpose.
You are, in fact, a licensed physician, dentist, veterinarian, nurse, pharmacist or other health care professional who is authorized by the statute to possess the needle or syringe.
Can I Be Charged If I Don't Use The Syringe?
Additionally, you should know that you could face a charge based on how you discard the needle or syringe (regardless of whether it was used for lawful or unlawful purposes or, for that matter, whether it was used at all). Under N.J.S.A. 2C: 36-6.1, it is a disorderly persons offense if you:
Discard the needle or syringe in a place accessible to other persons without destroying it, or
If you own, lease or otherwise control property while knowing that needles or syringes that are in intact condition have been discarded or abandoned on the property, and you let them remain there.
How Do You Dispose of Needles and Syringes Properly?
A needle is considered to be destroyed if the needle is broken off or mangled, while a syringe is destroyed if the nipple is broken from the barrel, or if the nipple and barrel are melted. You can also destroy a needle or syringe by putting it into a "rigid container" that is ground up or crushed in a compactor, or if it is burned in an incinerator.
If you are charged with unlawful possession, sale or distribution of a hypodermic needle or syringe, or if you are charged with illegally discarding needles or syringes in New Jersey, you need to take the charge seriously. You should get help from an attorney without delay.
New Jersey's Hypodermic Needle Laws Have Evolved Over the Years
New Jersey, like many states, has struggled with the conundrum of wanting to punish and deter people from using hypodermic needles and syringes for illegal drug use while, at the same time, addressing the broader public health concerns that needle and syringe use present. Over the years, New Jersey law has evolved and leaned towards prevention of the spread of HIV/AIDS, hepatitis C and other bloodborne diseases through the use of used or "dirty" needles.
For instance, in 2006, New Jersey passed a law (N.J.S.A. 2C: 36-6a) which allows possession of a hypodermic needle or syringe (even if it still has a "residual amount" of a controlled dangerous substance) by any person who participates in or is an employee or volunteer of an approved "sterile syringe access" program – commonly called "needle exchange" programs.
As this report indicates, the programs have made a "huge impact" on the communities where they are located: Atlantic City, Camden, Jersey City, Newark and Paterson. Many people who participate in these programs have received more than sterile needles and syringes. They have also undergone drug treatment and received HIV testing and treatment. As a result, New Jersey passed a law in 2017 that allowed needle exchange programs to open in any municipality and authorized $200,000 for five pilot programs.
Additionally, in 2012, New Jersey enacted a law (N.J.S.A. 2C: 36-6.2) that allows an adult (over age 18) to buy up to 10 hypodermic needles or syringes without a prescription (or more than 10 if the adult has a valid prescription) as long as the adult buys the needles or syringes at a licensed pharmacy. (It's still illegal to turn around and sell the needle or syringe to another person.)
It's important to point out that the law imposes several requirements on the pharmacy. Before selling the needles or syringes, the pharmacy must:
Check the buyer's age by asking for a photo ID or other proof of age
Keep the items under or behind the pharmacy sales counter
Give the buyer a New Jersey Department of Health pamphlet that has information about substance abuse treatment and how to safely dispose of the needle or syringe.
What If I am Charged With Needles I Bought Legally?
So, if you are charged with possession of a needle or syringe, you can raise as a defense under N.J.S.A. 2C: 36-6.3 that the needles were obtained from the pharmacy. However, you would need to show that you obtained them legally "by a preponderance of the evidence." A lawyer with experience handling drug defense cases will know how to gather and present that evidence on your behalf and fight the charge against you.
Get Help from a New Jersey Drug Crimes Defense Attorney
If you or a loved one has been charged with possession of a hypodermic needle or syringe or a related drug offense, contact attorney Jason A. Volet today for a free consultation. He is certified by the Supreme Court of New Jersey as a criminal trial lawyer, and he has handled more than 2,000 cases over the course of his legal career as both a prosecutor and as a criminal defense attorney. He will put his knowledge and experience to work for you right away.