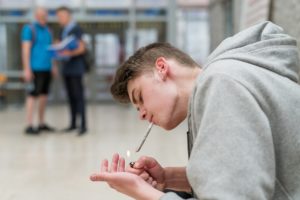 You have many things to worry about if the police arrest your child for marijuana possession in New Jersey. However, you won't have to worry about your child's case going through the adult criminal justice system. If the child is under age 15, the child's case must be handled as a juvenile delinquency matter in Family Court in New Jersey. Even if the child is age 15 or older, the child's case can be waived to adult criminal court only if it is a serious or violent offense – and a marijuana possession charge is not one of those.
Still, you need to take the charge seriously. If a judge adjudicates your child as guilty, the child could face consequences that greatly harm his or her future, including the loss of educational opportunities. For this reason, you should seek help from a knowledgeable New Jersey juvenile crimes lawyer as soon as possible.
Attorney Jason A. Volet is an experienced criminal defense lawyer and a former prosecutor who is certified by the Supreme Court of New Jersey as a criminal trial lawyer. He knows how to fight drug charges and navigate New Jersey's juvenile justice system. He can meet with you and your child right away at our offices in Freehold or Neptune or wherever else is most convenient for you to review the minor's marijuana possession charge. Connect with us today to get started.
How Do New Jersey's Marijuana Laws Apply to Minors?
The possession of marijuana without a valid prescription is illegal in New Jersey for adults and minors alike. Our state classifies marijuana in all of its forms – oil, resin or edible – as a Schedule I controlled dangerous substance (CDS). Additionally, it is illegal to possess drug paraphernalia such as baggies, rolling papers, pipes or bongs.
If you are an adult who is found to have knowingly possessed 50 grams or less of marijuana, it is treated as a disorderly persons offense. Many people refer to this charge as "simple possession." Possession of drug paraphernalia also is a disorderly persons offense in New Jersey. For adults, the charge carries up to six months of incarceration and a fine as high as $1,000.
Possession of more than 50 grams of marijuana is a fourth-degree crime. A conviction could lead to as many 18 months in jail and a fine of up to $25,000. If the offense occurs within 1,000 feet of a school, it can add up to 100 hours of community service.
Depending on the circumstances, a prosecutor may choose to charge a person with possession with intent to distribute, which carries even greater penalties. A prosecutor may press this charge if a person is found with a large quantity of marijuana as well as a high amount of cash, scales, baggies or other items which tend to indicate the intent to sell or distribute marijuana.
Any minor in New Jersey (or person under age 18) who is accused of engaging in conduct that would be a crime if committed by adult can instead face juvenile delinquency charges. Marijuana and drug paraphernalia charges are among those offenses. However, in our juvenile justice system, the focus is on rehabilitation rather than on punishment. In other words, the penalties which minors face are not the same as those for adults.
What Happens After Your Child's Marijuana Possession Arrest?
Police who arrest a minor for marijuana possession in New Jersey can place the minor in a juvenile detention facility. Within 24 hours, a hearing must be held to determine whether to continue to keep the minor in custody. If the minor is further detained, the minor is entitled to another review hearing within 48 hours. If the minor remains in custody, the minor is entitled to a review hearing within 14 days and then every 21 days after that.
If your child faces a simple marijuana possession charge, it is highly likely that the child will not be placed in a juvenile detention facility for any long period of time – if at all – and will remain free at least until the child's adjudication hearing date. If the child goes to a hearing, and a judge enters an adjudication of guilt, the child's case will move to the disposition phase. The judge may order your child to be placed in a detention facility or may place your child on probation and require the child to comply with conditions such as:
Paying fines and probation supervision fees
Undergoing drug and alcohol counseling
Being subjected to random drug testing
Complying with a driver's license suspension
Performing community service
Committing no other offense while on probation.
If the minor violates the terms and conditions of probation, a judge can revoke the probation, which could result in confinement in a juvenile detention facility.
Can a Minor Get Deferred Disposition for a New Jersey Marijuana Charge?
If a minor charged with simple possession of marijuana (50 grams or less) or drug paraphernalia is a first-time offender, a Family Court judge may give the minor a "second chance" and allow the minor to participate in a deferred disposition program. Attorney Jason A. Volet can help you to explore and pursue this alternative for your child.
Deferred disposition can provide a minor with an opportunity to put a bad mistaken behind and move ahead with a clean record. As long as the minor complies with the program's conditions over a certain period of time – one year, typically – then the charge(s) against the minor will be dismissed, and any records related to the minor's arrest will be destroyed. On the flip side, if the minor fails to comply with conditions, the charges against the minor will be reinstated, and the minor can face adjudication.
How Can a NJ Criminal Defense Attorney Help Your Minor After a Marijuana Arrest?
Attorney Jason A. Volet will aggressively protect your child's rights if he or she has been arrested for marijuana possession. For instance, if the police violated the minor's right to be free from unreasonable search and seizure, Jason can move to get the evidence thrown out, which could ultimately lead to a dismissal of the charge. Additionally, the prosecution's evidence may simply fail to establish that the minor knowingly possessed the marijuana, which could also lead to a dismissal. To discuss your case in more detail and learn more about how an experienced and highly dedicated criminal defense lawyer such as Jason A. Volet can assist your child, contact us today and schedule a free, no-risk consultation.