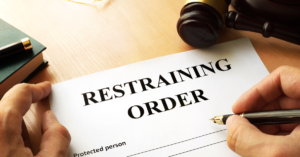 When a court imposes a restraining order against you, it can impose hardships on many areas of your life – from family relationships to your job. Even if you think you did nothing wrong or you have significantly changed your life since the court's decision, a restraining order can have far-reaching consequences.
However, a restraining order doesn't have to ruin your life. In many circumstances, you can file to have a New Jersey restraining order modified, revoked, or vacated.
Can a Final Restraining Order be Vacated?
If you have a final restraining order against you, it doesn't necessarily have to be permanent. This order can be vacated in one of two ways in New Jersey. You should understand that vacating is different from appealing an order, which involves a claim that the court shouldn't have issued the restraining order to begin with. On the other hand, a motion to vacate a restraining order happens when something has changed and the order is no longer needed.
The first way to vacate is that a victim can voluntarily ask the court to vacate the restraining order. This often happens in circumstances, such as:
The defendant and the victim want to get back together.
The victim forgives the defendant or is no longer afraid of him or her.
The victim has children with the defendant.
Alternatively, if you have a final restraining order against you, you can petition to vacate the order if you can prove "good cause," according to New Jersey law. Once you provide evidence to show you have good cause to vacate your order, the court will weigh this evidence, as well as any disputes to your claim, in order to decide whether to grant your request.
How Will the Judge Decide Whether to Vacate the Restraining Order?
In deciding whether to vacate a final protection order, the court will look at who is filing a request to vacate, the evidence that person presents, as well as a number of factors, including:
The current relationship between the victim and the defendant
The defendant's behavior since the court put the order in place, including whether the defendant has violated the order, whether he or she has sought counseling, and whether the person is abusing alcohol or drugs
If the victim is acting in good faith when opposing a petition to vacate the order
If the victim is the one requesting that the court vacate the order, the victim will need to speak with a counselor and sign paperwork saying that he or she is acting voluntarily before the court will consider the request.
What If the Victim Opposes Vacating the Restraining Order?
Even if a victim opposes vacating a restraining order, you can still file a successful motion to vacate if you can convince the court that the restraining order is no longer needed. Some types of evidence you might present to support your request include:
Actions you have taken since the order was filed against you, such as going to treatment for alcohol or drug abuse
Proof that the victim's attempt to oppose your request to vacate your order is not an act in good faith
A lack of additional convictions on your record
Times the victim has contacted or tried to contact you, despite the order
Proof that you are not a risk to the victim
You have children or other family members that you can't contact because of the order
Why Should I Vacate a Restraining Order in the First Place?
Having a New Jersey restraining order against you often makes life more difficult as long as it remains in effect. While the order is in place, you can face criminal charges with penalties of up to 18 months in jail and as much as $25,000 if you purposely or knowingly violate any of the provisions of your restraining order. For instance, if you do something as simple as texting the person who brought a restraining order against you, it could be considered a criminal offense.
However, vacating this order can help you move on with your life. If the court rules in your favor, it could make it easier for you to conduct daily business, interact with your children and other loved ones, and so much more.
How Will the Carfagno Factors Affect My Motion to Vacate the Restraining Order?
The "Carfagno Factors" are a list of conditions that the court looks at in cases involving restraining orders in New Jersey when considering whether to vacate an order. These factors include:
The victim in your case consents to your order being vacated
The victim's reasons for opposing the request
Whether the victim is afraid of you
Your current relationship with the person who originally filed for the restraining order
Whether you have had other violent altercations or an additional restraining order has been placed against you
Your age and health
Whether you abuse alcohol or drugs
Any treatment or counseling you've tried
Other matters the court decides might be relevant
Talk to a Lawyer About Vacating a Restraining Order Now
If you are considering filing to vacate a restraining order, The Law Office of Jason A. Volet is here to help. With a proven track record of successfully helping defend clients against a range of felonies and misdemeanors, Mr. Volet has the exceptional legal skills you need to help you get your life back on track.
To review your options in regard to your restraining order, call The Law Office of Jason A. Volet right away for your free consultation.