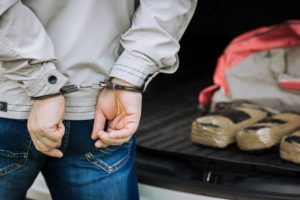 Typically, law enforcement officers in New Jersey must obtain a warrant before they can search a person or a person's property. However, an exception exists for automobiles. Police officers do not need a warrant to make a traffic stop or search a person's vehicle. Instead, they can act based on reasonable suspicion that the driver is engaged in criminal activity, including having drugs or other contraband in the car.
Here, we address several questions that people frequently ask when it comes to traffic stops and searches that lead to drug arrests in New Jersey. To discuss the specific facts of your case with an attorney who has litigated traffic stops and drug arrests as both a prosecutor and as a criminal defense attorney, contact The Law Office of Jason A. Volet today. We will provide a free consultation about your case.
When can a police officer stop your car in New Jersey?
The Fourth Amendment of the U.S. Constitution and Article I, Section 7 of the New Jersey Constitution protect the rights of people to be free from unreasonable search and seizure. So, in order for a traffic stop, or seizure, to be "reasonable," it must have a lawful justification. In New Jersey, the rule is that a police officer must have reasonable and articulable suspicion that the driver or passengers are engaged in some form of criminal activity.
For instance, an officer may have reason to believe that a driver has violated traffic laws by speeding, driving with an expired registration tag or driving while impaired by drugs or alcohol. Once the officer stops a driver, the officer must address the reason for the stop and cannot go beyond that unless the officer develops reasonable suspicion of other criminal activity. For example, if the officer reasonably suspects that drugs are in the car, the officer may detain the driver in order to conduct a dog sniff the car's exterior.
Can a police officer search your car without a warrant in New Jersey?
A police officer in New Jersey does not require a warrant to search your car after pulling you over. However, the officer still needs lawful justification. Similar to a traffic stop, the officer must have reasonable and articulable suspicion that drugs or other contraband are in your car or probable cause to believe that such items could be found in the vehicle.
To determine whether an officer had reasonable suspicion, a court will look at all of the circumstances and take into account the officer's training and experience. Even legal behavior could contribute to the officer's suspicion such as nervous behavior or a suspicious story which the driver gives about his or her travels. In some situations, an officer may have probable cause to search the vehicle based on the "plain smell" of marijuana or other drugs or seeing drugs or other contraband in "plain view."
Occasionally, an officer will receive a tip that someone is transporting drugs. The tip may justify the stop and search of a car. However, the officer must observe things which independently corroborate the tip before the officer can conduct a search of the vehicle without a warrant.
In several other situations, an officer may conduct a warrant less search of a car. For instance, you may give the officer consent to search, or "exigent circumstances" may exist that pose a threat to the officer's safety. If you are arrested, an officer may search the vehicle incident to the arrest in order to inventory the car's contents.
What is the charge for getting caught with suspected drugs in your car?
When suspected drugs are found in your car, you will likely face a possession charge. The severity of those charges will mainly depend on two factors:
Type – In New Jersey, controlled dangerous substances (CDS) are categorized into schedules depending on their risk for abuse. Drugs with the highest risk of abuse are classified as Schedule I, while drugs with the lowest risk are classified as Schedule V. Possession of a Schedule I CDS carries more serious penalties than a Schedule V drug possession charge.
Amount – A larger quantity of suspected drugs will lead to a more serious charge. For example, possession of less than 50 grams of marijuana is a disorderly persons offense, or misdemeanor, which carries up to six months of imprisonment. However, possession of more than 50 grams of marijuana is a crime of the fourth degree, or felony, which can result in up to 18 months in prison. Additionally, if you are found with a large amount of drugs, you may be charged with possession with intent to distribute.
Keep in mind: An arrest is not a conviction. If the police violated your constitutional rights in the stop and search of your car, for instance, a court may throw out all of the evidence which the police obtained as the result of their unlawful conduct and, in all likelihood, dismiss the drug charge(s). In some cases, a forensic chemist fails to follow proper procedure when testing the substances alleged to be drugs, which can lead to a lab report getting thrown out. Additionally, the prosecution's evidence may fail to show that you knowingly possessed the drugs.
What should you do if the police arrest you for drugs found in your car?
If the police arrest you for suspected drugs found in your car in New Jersey, you should know the proper steps to take in order to protect your rights. The four main steps are:
Remain calm – Getting arrested, regardless of the charge, can be scary. Still, you need to remain calm and avoid any other behavior that could make your situation worse. Getting upset or angry will not help. It could even cause you to say something that a prosecutor will try to use against you later on.
Know your rights – Before a law enforcement officer questions you while you are in custody, the officer must read your Miranda rights to you. Those rights include the right to remain silent, and the right to speak with an attorney.
Remain silent – Refusing to say anything about the circumstances leading to your arrest, or the arrest itself, is your right. Do not say anything other than you would like to speak to an attorney right away.
Cooperate – While you should remain silent, you should also cooperate with the police officers as you go through the "booking" process. If you fail to cooperate, it could lead to additional charges.
Contact a New Jersey Drug Crimes Defense Attorney Today
The most important step that you can take after the police arrest you for suspected drugs in your car is to get legal help. As an attorney who has been certified by the Supreme Court of New Jersey as a criminal trial lawyer, Jason A. Volet will know how to thoroughly investigate all aspects of your case and explore all possible defenses. Prosecutors want to convict you. His sole focus will be to keep that from happening. To get started, contact us today and receive a free consultation about your case.