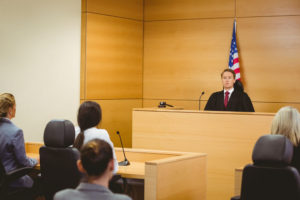 The outcome of a criminal proceeding involving a child can vary drastically depending on whether the individual is tried as a juvenile or as an adult. The New Jersey juvenile and adult court systems both handle cases involving serious offenses. But there are notable differences in the two systems. If your child has the option of being tried as a juvenile or an adult, it may be in the young person's best interest to be tried as a juvenile.
The criminal justice system, whether for adults or juveniles, can leave a person facing serious consequences. The sentences handed down may include a variety of penalties. But New Jersey's juvenile justice system puts an emphasis on rehabilitation, alternate sentencing, and consideration of the child's best interests.
If your child has a pending juvenile matter, as a parent, you should understand the differences in the adult and juvenile justice systems in New Jersey. The following differences in how the two systems administer justice are worth noting:
Trial by Jury—Adults who are arrested and face criminal charges in New Jersey have a constitutional right to a trial by a jury. Most criminal trials involving adults are conducted in open court and the records of the proceeding are public records. Trial in adult court carries the potential for more serious penalties upon conviction.
Trial by Judge—Juvenile cases involving criminal offenses are decided by a judge in the Family Division of Superior Court. Juveniles do not have a right to a jury trial in the juvenile justice system. Juvenile hearings are generally not open to the public, and juvenile records are kept private. The idea is that a young person should not have to bear the public stigma and consequences of a brush with the juvenile justice system for the rest of his or her life. A criminal record, if public, could limit future education and work options for the young person.
Juvenile Court Sentence—New Jersey's juvenile code allows judges a wide range of dispositions in cases of a child found to have committed a juvenile offense and adjudicated delinquent. The most common disposition is probation supervision. The judge may order your child to serve probation and fulfill other requirements. For example, a juvenile may be ordered to perform community service, pay financial restitution or enter a counseling or treatment program. Depending on the seriousness of the offense, many first-time juvenile offenders may qualify for a deferred disposition. If the child complies with the requirements of the deferred disposition and stays out of trouble, he or she may avoid having a juvenile record altogether. In certain serious cases, a youth offender adjudicated delinquent may be incarcerated in a Juvenile Justice Commission institution. The goal of New Jersey's juvenile justice system is to offer programs to rehabilitate young people rather than punish them.
Adult Court Sentence—If a juvenile case is transferred to adult court, the child will be treated in the same manner as an adult. The child may be held in an adult jail and, if convicted, face the same sentences as an adult. A prosecutor may seek to have a juvenile case involving serious charges of murder, sexual offense, armed robbery, or other crimes involving firearms, transferred to adult court for prosecution because a conviction in adult court will in all likelihood carry harsher penalties. A juvenile must be at least 14 years old for the case to be considered for transfer to adult court. If sentenced to incarceration in adult court, the child may serve the sentence in an adult prison or in some cases in a juvenile facility.
Young people who are 14 and older may elect to have their case transferred to adult court. But before any decision is made, the parents or guardian of the young person should consult with an experienced N.J. criminal defense lawyer to assess what is in the best interest of the young person.
Adult Records Can Be Difficult to Expunge—Our law office frequently receives inquiries about whether an individual is eligible to have his or her criminal record expunged. The answer is "Maybe." Not all convictions are eligible for expungement. There are a number of factors that will determine whether a criminal record can be expunged such as the individual's prior record, the number of offenses on the record, how long ago the incidents occurred, and whether there have been more recent charges. It can be a lengthy process for an adult to have a criminal record expunged.
Juvenile records may be sealed—Your child's juvenile record should be kept sealed and only accessible to law enforcement and judicial agencies unless the child has been found guilty of a juvenile offense that would be a serious first-, second- or third-degree offense if charged as an adult. Your child's juvenile record may be expunged five years after the child's release from custody or end of supervision, depending on the nature of the offense.
NJ juvenile crimes attorney, Jason A. Volet, a former Monmouth County prosecutor, can offer trusted legal representation if your child has been accused of committing an offense, such as drug offense, shoplifting, robbery, underage drinking, assault, or a sexual offense.
Jason Volet understands how New Jersey's juvenile justice system works and how its focus is rehabilitating wayward young people rather than punishing them. As a juvenile defense attorney, he is dedicated to assisting people like your child. He is among a select group of N.J. lawyers certified by the Supreme Court of New Jersey as a Criminal Trial Attorney in recognition of his knowledge and experience in this area of law. He will work to achieve the best possible outcome if your child has been charged with an offense.
Call (732) 491-8477 to reach The Law Office of Jason A. Volet or contact us online to schedule your free and confidential initial legal consultation.