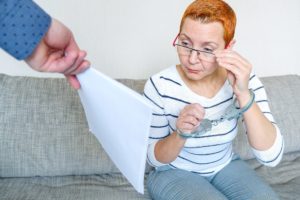 Police in New Jersey can obtain different types of warrants. Arrest warrants, bench warrants and search warrants are the three main types. While police use a search warrant to find and seize evidence in a case, they use bench and arrest warrants to take people into custody. If you face a bench or arrest warrant, it is a serious matter. If one of these has been issued against you, you need to get an experienced criminal defense lawyer on your side immediately.
Here, we discuss the differences between bench and arrest warrants. It is important to understand these differences and how they could possibly impact your criminal case. To discuss the specific facts and issues in your case, make sure to call The Law Office of Jason A. Volet as soon as possible. Jason is a former assistant prosecutor who has years of experience with helping people throughout New Jersey to fight the charges against them. He understands both sides. He can put those unique insights to work for you. Contact him today to learn more.
What Is a Bench Warrant?
A bench warrant tends to spring from existing legal matters and court orders that have already been put in place by a judge. As Rule 7:2-3 of the New Jersey Court Rules states, a court may issue a bench warrant where a person is held to be in contempt of court. In other words, the person failed to follow the court's instructions by:
Failing to appear in court when required
Failing to respond to a summons
Disregarding the terms of an existing court order that is in place
Behaving in a manner that was either disruptive or threatening during court proceedings.
Once a bench warrant has been issued against you, the police can arrest you and hold you in the local jail until a hearing is held. As a condition of your release, you may be required to comply with all the terms of an existing court order. If you violate those terms, you may face additional contempt of court charges, which can result in additional fines and other penalties.
What Is an Arrest Warrant?
A court typically issues a bench warrant for a person's failure to comply with the court and its procedures in existing civil or criminal matters. An arrest warrant, on the other hand, generally involves new criminal cases and those currently under investigation. Arrest warrants in New Jersey may be issued in the following situations:
As the result of a citizen complaint – When the victim of a crime reports the incident, an arrest warrant may be issued against the alleged perpetrator.
Upon investigation by a law enforcement agency – An arrest warrant may be issued if a law enforcement investigation establishes probable cause that a person has committed a crime.
Due to an indictment being issued – A prosecuting attorney may present evidence to a grand jury which ultimately chooses to indict a person with one or more charges. Once the jury returns the indictment, a warrant will be issued for that person's arrest.
In all three of these scenarios, the law requires probable cause to believe that a crime has occurred and that the person named in the warrant is the perpetrator of the crime.
Why Would You Get a Bench Warrant?
The Monmouth County Sheriff's Office reports that it processes thousands of different types of warrants each year, resulting in more than 900 arrests. According to its website, the majority of these are bench warrants issued for people who failed to appear for scheduled court proceedings. Other situations in which a bench warrant may be issued against a person include:
Failure to appear for traffic citations
Failure to pay fines imposed by the court
Violating the terms of a restraining order
Violating the terms of probation
Failure to pay child support or to take other court-ordered actions.
If you are placed under arrest for a bench warrant, the outcome will depend on the situation involved. You may be eligible for release within a few hours or days, or you may be detained until you comply with the terms of an existing order or until a more formal hearing can be held.
How Can a Lawyer Help You?
Whether you have been arrested as the result of a bench warrant issued on a traffic ticket or due to more serious criminal charges, having an experienced New Jersey criminal defense lawyer on your side can help you to seek a release in the quickest amount of time possible. In situations involving bench warrants, attorney Jason A. Volet can also help you with resolving any underlying legal issues. He can also review the terms of any existing orders in your case.
If you have had an arrest warrant issued against you, Jason can provide the strong legal guidance and aggressive defense you need. Actions that our law firm can take on your behalf include:
Investigating the circumstances surrounding your arrest and the evidence against you
Talking to witnesses, friends and family members while gathering evidence in your defense
Negotiating with law enforcement officials and prosecuting attorneys in your case, with the goal of having your charges reduced or dismissed.
Protecting your freedom when an arrest warrant is issued is a top priority. Depending on the situation, we may be able to have your warrant dropped or negotiate the terms involved. Our law firm's years of experience and our relationships within the legal community make us a strong ally on your side, helping you avoid the penalties associated with your charges and a possible conviction.
Reach Out to a New Jersey Criminal Defense Lawyer Today
When facing the possibility of jail time due to an arrest or bench warrant, it is important to take immediate action. At The Law Office of Jason A. Volet, we will provide the trusted legal guidance and professional representation you need to protect yourself and your freedom in this situation. To discuss the options in your case, contact us for a consultation today.